Design and manufacture of water filters
Certified engineers professionally design water treatment systems for a variety of applications. Prepares project proposals. In addition, it is advisable to find the best solution, even in the most difficult situations.
Entrust these works to our specialists and rest assured that you will get the best solution for you. Remember - the more accurate and detailed you give for us your wishes, the faster the project proposals will be prepared.
Filters repair and service
We repair, replace and modernize water filtration equipment of all manufacturers, if it`s possible. Control valves repair, programming, replacement of cartridges for domestic reverse osmosis systems, washing and replacing industrial RO membranes, resin renewing, and all other filter maintenance.
We have a wide range of spare parts, as well as excellent opportunities to quickly get original parts directly from suppliers. We cooperate with 80%. companies in the market that specialize in water treatment.
Resin replacement and filters renewing
At an excellent price-quality ratio, the specialists working in our company will replace the resin of your water filters with a new one. When changing the fillers, the inner part of the filter tank is cleaned, and if necessary, the entire distribution system and pipeline are selected and cleaned. We are also replacing the filtration cartridges for RO drinking water systems.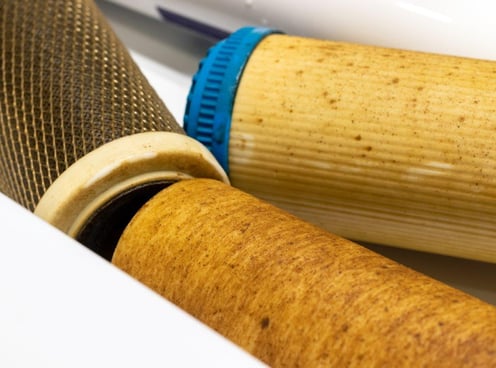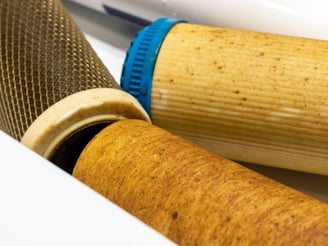 Delivery of goods and consumables
Delivery of goods throughout Lithuania and EU countries. Delivery of water filters in Kaunas - free of charge. Other cities by agreement. The delivery price of consumables is coordinated and calculated individually (salt for water filters, etc.).
Free professional consultation
Water quality improvement professionals consult you for free. These consultations are essential tips at the right time for you. Talk to the professionals working in our company and solve any water quality problems, find out the answers to your questions. Consult with us to avoid such unfavorable phrases as: if only I knew...
Warranty and post-warranty service
Employees of our company and service engineers perform warranty and post-warranty service of all water treatment equipment installed by UAB "Gamteka", using original spare parts and consumables recommended by the manufacturers.
The warranty period is 24 months for private individuals and 12 months for companies from the date of installation of the equipment, unless otherwise provided.
Contact our consultants and together we will turn your water disadvantages into benefits.